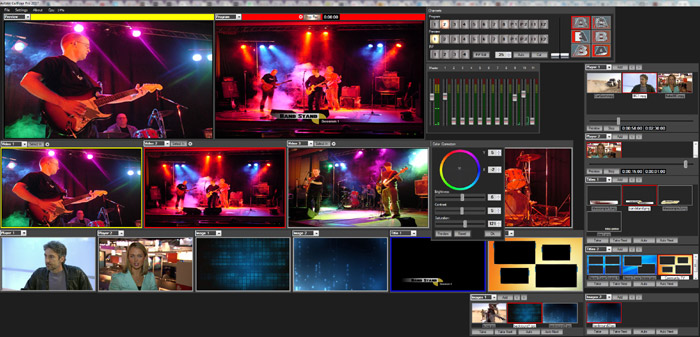 CutFour Pro 2017
Professional live video mixing software
Full HD quality YUV 4:2:2 video fields prosessing with native video camcorder format without any color space conversions
Up to eight live video input support + inputs for two title overlays, video players, Image sources, screen capture
Video input interface supports directly Blackmagic Design™ capture cards and any DirectShow Compatible capture cards
Newtek NDI live input support and NDI Progran output
Full quality YUV4:2:2 video output interface supports Blackmagic Design video output devices
Advanced and intuitive easy to use user modified interface, Bins for titles, images and video files.
Project Save: Layout, All inputs, Color corrections, PiPs, Bins clips, slow motion clips are saved to project file
Eght channel true color corrector
Four channel simultanous Picture in picture sources with cropping and color edges
Web video streaming with any streaming software in the same desktop PC
Channel audiomixer with peaking meters
Two channel titles over video with alpha channel support
Two channel video insert players with MPEG2,MPEG4 and many others file support
Program channel full quality 50Mbps or 35Mbps capture recording to MPEG2 format with 16 bit /48khz stereo audio
Fades, animated wipes and stinger transitions
Preview for all video input channels without external video monitors
Full screen preview video output via display adapter second port
NEW! One cource channel MPEG2 recording and slow motion replays. Video Clips 1x, 0.5x, 0.33x and 0.25x slow motion replay with stinger transitions (for 1080i50 or 1080i59.94 project formats only)
NEW! Four Source Channels MPEG2 Recording and four angle slow motion replays (Only available in CutFour Pro 2017 Sport Edition)
NEW! CutFour Pro support NDI input with alpha channel. You can overlay any NDI compatible sport score application output with key signal like Live.Score™ software.
NEW! Newtek NDI version 3 now updated

See full CutFour Pro Release Notes
Download trial version
You can try CutFour Pro 2017 60 days
You need Intel Core I7 PC with Windows 10 or Windows 7 and any Blacmagic Design or DirectShow compatible capture card (if you like try live camera inputs)
Buy CutFour Pro 2017 now!
CutFour PRO 2017 software license prices:
Now only 259€ / 269$ VAT exluded
Buy CutFour Pro 2017 Sport Edition now!
CutFour PRO 2017 Sport Edition software license prices:
Now only 359€ / 369$ VAT exluded
Up to Four Source Channels MPEG2 Recording and up to four angle slow motion replay
Bundle Campaign with camcorder HDMI PCIe INPUT card!
Buy CutFour Pro 2017 and get HDMI PCIe capture card
309€ / 319$ VAT exluded
Free economy shipping!
Upgrade your existing CutFour to 2017 Pro version!
Upgrade your existing CutFour HD, SD or DV version to CutFour Pro 2017
145€ / 149$ VAT exluded
Easy to use mixing controls with great GUI!
Several ways to control mixing: Click any preview window via mouse to cut, use control panel buttons or use keyboard shortcuts. Click left mouse button in any input preview window to do cut and right mouse button to do selected transition! This is really friendly and innovative way to do mix!
Eight channel true colour correction
Avtake CutFour Pro 2017 have eight channel color corrector
Color balance joystick controls
Brightness, contrast and saturation controls
Process colors in SDI/HDMI native videocolor format YUV4:2:2 without RGB conversions
Quick Title Edit inside CutFour and Title Template Designer
CutFour Pro includes new Title Template Designer application to do title templates that can be modified quickly directly from CutFour Pro application.
Just change title layers texts quickly from CutFour title bin interface.
CutFour Pro 2017 detailed features
Supports up to 8 live inputs from Blackmagic Design video devices, Compatible DirectShow devices or Newtek NDI IP devices. Up to 1920x1080 25P/30P/50i/60i.
Full quality program video output with embedded audio via Blackmagic Design video devices is supported
Full quality program video Newtek NDI stream output
Output to any web video streaming application in same desktop PC via virtual Direct Show capture device
Two Title channels over video with alpha channel support. Two bins for Titles. You can use a third party application to make titles or images. CutFour supports popular bitmap formats and PNG, TIFF and TGA formats with alpha channel support. You can do overlay titles with Adobe PhotoShop or various title softwares. Titles have own bin window with slide show functions.
Two channel Bitmap image sources as input channel. Two bin windows.
Full quality MPEG2 file capture with FFMPEG 35Mbit MPEG-2.
Desktop capture via free Newtek™ NDI Scan Converter software (Download from Newtek)
Eight channel real time color correction for live video inputs. White balance, brightness, contrast and saturation control
Picture in picture (PiP) , Four simultanous PiPs in HD with cropping and color edges
Easy-to-use user-customized interface. Simple analog mixer style. Easy control with mouse or shortcuts. Preview to all video inputs. Scalable video windows for program and video inputs.
Two Video insert players. You can insert video clips to live program using direct cut or selected transition.
Ten channel audio mixer with master peak meters and Aux channel
40 transitions: fades, wipes, animated wipes and stinger transitions. Cool stinger transition animation feature to use image sequence together with gradient wipe! Transition usage with control bar, Auto control via mouse and shorcuts. You can select your favorite transitions from transition bin to transition panel.
Project save with most values: sources, color corrector, bins footage, user interface layout, pip, audio mixer
Web video streaming with any video streaming software and broadcast SDI/HDMI/Newtek NDI output support
Support Adobe™ Flash Media Live Encoder, Microsoft™ Expression Encoder, VideoLan™, Open Broadcaster and several other encoder applications
CutFour Pro video/audio virtual output can be used with any Microsoft DirectShow compatible streaming application as a virtual DirectShow video/audio input device.
System requirements
For live camera inputs you will need Blackmagic Design or DirectShow compatible (UYVY/YUY2 color space support) video I/O devices or Newtek NDI sources. For example any Decklink, Intensity or Ultra Studio series capture card. Different device models can be mixed in same PC. Please check your mother board that it includes enough free PCIE slots. Multi channel cards Decklink DUO and Quad have supported too.
If you need full quality YUV4:2:2 broadcast video output you will need any Blackmagic Design video I/O with outputs
8GB RAM, 16GM recommended
Any Intel Core i7 for 720P web streaming. Full HD 1920x1080 web streaming needs Amd Ryzen 7 or new 4 core Intel Core i7K processor or any 6 core core Iintel I7 processor
Windows 10 64bit Windows 7 64bit
Basic graphics card with hardware based DirectDraw overlay with 32-bit color. Intel i7 processor integrated craphic adapters are also supported. Two port display adapter is required to preview full screen video to projector.
SATA 7200rpm or faster hard disk. SSD disk configuration recommended to system and video player.
Soundcard for audio preview
Separate hardware audio mixer is highly recommended